Unwrap the gift of Christmas Presence
"Our life is what our thoughts make it."- Marcus Aurelius (121 – 180 A.D.)
Join us this Sunday and welcome the Spirit of Christmas.
The transformational story of Ebenezer Scrooge's woeful clerk, Bob Cratchit, will offer us a mirror for you to reflect on our life. In Bob's Christmas Carol, angelic Spirits help Bob face the choices he squandered that brought him to work for such a wretched miser. He has a chance to break the chains that bind him to the past, embrace the presence of love, and consciously make choices for a future filled with joy—the miracle and wonder of Christmas. During the service, we can experience our own Christmas Carol.
Biography: Leonard Szymczak, Psychotherapist / Author / Speaker
Leonard is an award-winning author, TEDx speaker, psychotherapist, and life coach. For several years he gave monthly talks during the service at the San Juan Capistrano Unity Church. He believes firmly in our inner GPS (Guiding Power of Spirit) and wrote a heart-opening spiritual book which became an Amazon bestseller.
For the past 40 years, Leonard has worked in both Australia and America as an educator, therapist, and writer. His books include Bob Cratchit's Christmas Carol, The Roadmap Home: Your GPS to Inner Peace, an Amazon bestseller, as well as the novels, Cuckoo Forevermore and Kookaburra's Last Laugh, lighthearted satires on psychotherapy. He is the co-author, along with Mari Frank, of Fighting for Love: Turn Conflict into Intimacy.
View Leonard's TEDx Talk, "In the Age of Superheroes, Where Are the Fathers?
www.leonardszymczak.com
www.fightingforlovenow.com
https://powertoolsformen.org/
We Invite you to join us for our Sunday Experience live on YouTube each Sunday at 10 am PT, or you can watch at your leisure during the week. Feel free to also check out our archived videos from previous weeks.
In a climate of great uncertainty, polarity of thinking and a crying out for healing on a global scale, our Sunday Experience offers the inspiring message that the fundamental nature of the Universe and all beings is Goodness and Love.
"Love is the energizing elixir of the Universe – the cause and effect of all Harmony"
~ Rumi
In alignment with evolving change on the planet, our Sunday Experience is now totally virtual. While it is our intention to return to in person services at the appropriate time, we have become a spiritual center without walls, in service to an expending demographic around the world. Our universal message honors the spiritual traditions while incorporating the teachings of leading-edge thinkers and philosophers.
There are three components to our Sunday Experience: The Exploration, The Meditation, and our Posi Music Ministry.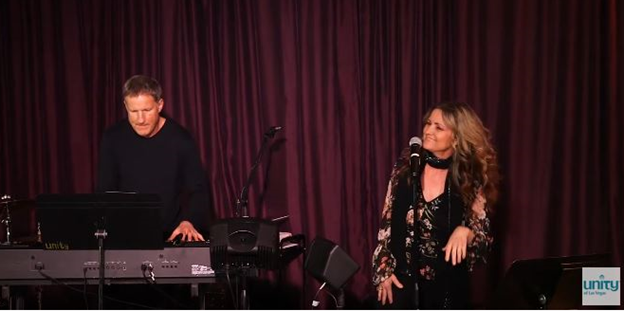 The Exploration
The Exploration or message portion of the service is designed to provide practical tools for navigating the complexity of our times grounded in the belief that in embracing the nature of our higher selves, we are always greater than any situation before us. We take an inclusive approach to being human – embracing all parts of ourselves and reframing the role of the ego within the larger context of our Divinity.
Areas we are exploring include:
How are the current circumstances of our lives perfect for drawing out our unique expression of Love on the planet?
How can we be both spiritually grounded and have a powerful, practical impact for good in our own lives and in the lives of others?
How can we expand beyond the limits of our perception to create yet undiscovered possibilities of healing and transformation?
The Meditation
The guided meditation portion of the service is a mystical practice designed to function as a transmission of Love, creating major shifts in awareness. Along with the peaceful, centering experiences of the moment, with regular practice, new spiritual capacities are built that open us up to new possibilities in our lives and in our relationships with others. Tapping into the ancient wisdom of the Universe encoded in us over the course of 13.7 billion years, we create new ways of being and perceiving that point to what's next for us personally and for humanity.
Our Posi Music Ministry
It has been said that to sing is to pray two times. The arts have a unique way of opening the heart and supporting us in connecting with the deepest parts of ourselves. Throughout history, it has been the artists that have moved culture forward to its next level of evolution. In collaboration with nationally acclaimed artists, in the areas of instrumental and vocal music, composition, spoken word and dance, our Posi Music Ministry provides a positive, inspiring message, creating unique inroads to our Divine selves.